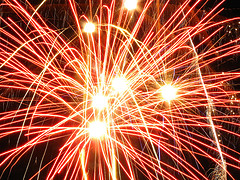 Anyone that has ever lived in Dublin, or one of the big cities in Ireland, will know that Hallowe'en is a loud experience to say the least.
For pets, it can be a real nightmare.
The constant bangs and flashes can keep them on edge and make them anxious.
Natalia Soblechero at the Independant has put together a list of ways you can make sure things run as smoothly as possible.
She includes tips such as making sure you keep your pets inside and the universally good advice of making sure they are microchipped – then if they run away you will hopefully be reunited with them.
You can also watch this video by Pete The Vet at TV3.ie which includes more tips on looking after your pets at hallowe'en.
The ASPCA – No Scaredy Cats This Halloween: Top 10 Safety Tips for Pet Parents – is a great list of Hallowe'en tips including not giving your pet any treats like chocolate!
Useful websites:
Compare pet insurance deals in Ireland at Pet Insurance Ireland.
Photo: Glen Bowman
Hallowe'en, a nightmare for pets

,